Damascus, SANA- At one of the historic ancient markets at the centre of old Damascus, Bassam Sidawi is engaged in his workshop with a group of craftsmen manufacturing a new women's bag of natural leather, which still retains its luster and attracts many women and visitors to Damascus.
For hundreds of years, workers at the natural leather industry have inherited the profession from generation to generation. "My leather products are inspired by my love to Damascus whose craftsmen have left their unforgettable touch on the world of leather industry," Sidawi says.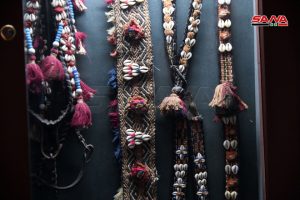 For hundreds of years, workers at the natural leather industry in Damascus Old City have been inheriting the profession from generation to generation.
"I have been working at the natural leather industry from about 55 years as I inherited the profession from my father and grandparents who have worked at Hamidiya Souq "Market" from 300 years ago, and I have taught it to my sons and daughters and my wife… leather industry is still a complete handicraft, and it needs patience, accuracy and workmanship," Sidawi adds.
According to Sidawi, whose products are displayed at one of the halls of al-Azem Palace and in a number of shops at al-Hamidiya Souq and near the Umayyad Mosque, the craft of the Damascene leather industry is characterized by its originality, graphics, decorations, cultural nature and world-class quality due to the manual tanning method.
Sidawi uses local raw materials in his work because Syria has an animal wealth, explaining the way of work, where the leather comes from the slaughterhouse to be washed and salted to kill bacteria.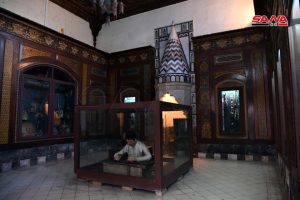 Afterwards, the leather is dried for a week with salt and then it is put again in water to start the calcification process through painting the leather with sodium and lime, and it is fold a full day to remove wool and lint and then begin the process of mummification in wooden barrels with rock salt and sulfur acid to become white in color and to gain softness and flexibility to enter the tanning process after that.
Sidawi explains that tanning is of two types, either with vegetable mimosa materials to take the white color and become soft for the manufacture of bags and oriental products, or with chromium salts to become blue and harsh for the manufacture of shoes.
He pointed out that camel and cow leather is thick and they are used for manufacturing shoes and furniture, while the leather of goat and sheep is soft and it is used to make bags and clothing.
After this stage begins the stage of the crest where the leather is ready for external coloring enters into the ovens and it is fixed with the lacquer to cut as much as it is required and it is designed as clothes or bags, according to the craftsman Sidawi who adds that work kit is manual, which is a leather a scissors, a knife, a puncher and equipment used to tighten the leather.
Every year, Sidawi is keen to follow fashion and new designs so that he can offer innovative and competitive products and designs.
He concluded by saying: "I started the profession of manufacturing leather bags and shoes and developed my profession with my family from making mattresses and accessories from the remains of the leather to other products which are sewn entirely by hand.
Ruaa al-Jazaeri